Any time you can get input from important stakeholders to get a perspective on the general landscape and ask specific relevant questions, two things are bound to happen: one, you'll find something in the data that'll surprise you and cause you to reconsider what you do or how you do it; and two, as a result, you'll learn how to better serve those stakeholders.
In a recent survey we fielded on the topic of the promotional content review process in life science companies, both were proven to be true.
At Vodori we believe promotional content review systems can be a great way for life sciences marketers to more efficiently move, approve, and distribute content. Knowing how these systems have helped many of our clients maximize their review processes, and being ever-curious Vodorians, we wanted to uncover more about how different companies and constituencies conducted their review processes and how it could help us further help our clients.
The survey was distributed to life sciences across the globe. Participants had the following roles:
Marketing
Marketing Operations
Regulatory
President
Sales
Portfolio Management
Laboratory Operations
The first data point that surprised us a bit was what the participants were using for their promotional content review process. Check it out: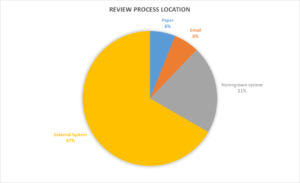 As you can see, 6.1% use a paper based system, 6.1% use email, 21.1% use a homegrown system, and 66.7% use an external system. That means 33% of the participants are leveraging a homegrown system or paper or email-based systems for their promotional review process.
Now, data interpretation is often a function of the interpreter, so you decide whether you think that's a big or small number. Either way, it's clear there's an opportunity for a significant number of people to maximize time and effort and find more success with their content review by using an externally designed and implemented system to streamline their process.
There are a lot of good reasons to consider it; the great thing about having a survey like this is that those reasons can come directly from the horses' mouths. Among the 88% who use some kind of a system, here are things they love about it:
Transparency and streamlined process
Electronic management of promotional material that automatically removes content from use at expiration dates
Efficient audit trail that also shows who an approval is sitting with
The ability to attach claims and references to an asset
Ability to Electronically submit 2253
Web based and accessible from anywhere/any system
Easy to learn global country control
"I love that I can that I can access any pieces in the system, even if they aren't ones I worked on. I also love that other people can access my pieces."
In-meeting review capabilities
Editing tools
A lot of great reasons: Streamlining the process, creating an efficient audit trail, providing easy and universal accessibility, and more. This is good stuff that we're very familiar with, and provides a solid case for the use of some kind of a system.
But in all fairness, we had a mini-eyebrow raising moment when the results came back on how satisfied participants were with their current systems.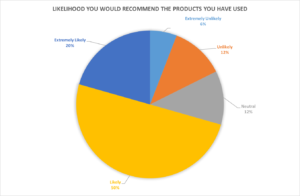 As you can see, a majority of participants would recommend the products they've used across all systems. But 30% were either neutral or wouldn't recommend them. That's a pretty significant number.
Further, here's what happened when we asked them about their level of satisfaction with the products they've used across all systems. And remember, this includes internal and external systems—that is, systems participants have developed themselves.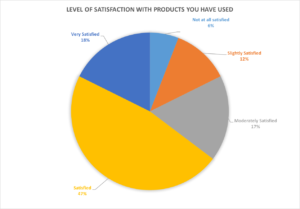 65% of people being satisfied or very satisfied is pretty good, but 35% leaves plenty of room for improvement. Some areas the current systems are lacking include:
Some areas the current systems are lacking include:
Too many clicks
Search functionality
Customizable reporting
"Rolling out to entire organization a challenge due to: training needs, enforcing of compliance, structural requirements of multi-local (many countries). Overly burdensome administration needs on organization."
Full capability of 2253 submission
Multiple ways/places to enter data has led to people misusing the system
Parallel review
Mass storage of files/assets
Difficult sometimes to see all the comments particularly on notes section of a slide deck or to attach references
Visibility into which comments were approved and which were denied to know what to change
These data help show what makes these types of surveys so interesting and so valuable; they help point out the shiny strengths, as well as the less than glamorous hiccups. It's not just interesting to present the breadth of information, it's important to consider how to use it to improve the performance of any system.
Thanks to the data in this survey, we know of the tremendous positives in using a promotional content review system, and we know there's still room for improvement. The findings from the survey confirmed our strong advocacy for the systems we help develop and put into place for our clients.
Ultimately, these are our key takeaways:
Available promotional review platforms are streamlining the process for many companies, but there is still room for improvements. Key areas for improvement include:

Reporting
Referencing capabilities
More seamless ability to route websites
Hopefully these findings have caused your eyebrows to raise a little as well, and when it comes to promotional content review, given you some insights on how you use your systems, where your strengths may be, and whether there's an opportunity to maximize.
If you'd like to learn more about Pepper Flow® Commercial and how it can serve as the backbone to your promotional content review, contact us at hello@vodori.com.