September 13, 2022
3 ways to avoid review bottlenecks during the content approval process
Back to Blog
Picture this: you've spent time perfectly crafting a piece of content, uploading it for review, meticulously annotating and adding references, and assigning your review team to ensure it sails through the approval process. However, you're still experiencing review bottlenecks and it's putting pressure on getting your content approved on time.
Working in a fast-paced environment means your review team's priorities are ever-evolving, workloads are changing, and pressure points are normal. You've come to expect review bottlenecks as inevitable, but what can you do to overcome this? Don't panic! There are plenty of ways to gently remind reviewers of their task without being overbearing.
Follow these top three tips on how to nudge your co-workers to complete their review on time and avoid content approval process bottlenecks.
Utilize review committee meetings
Use dedicated time in your review committee meetings to track the progress of content in review, discuss comments and feedback, address blockers, and ensure adequate resources are available to support the workload.
This platform enables the entire review team to highlight bottlenecks and source solutions, whether this be a reprioritization of work, amended deadlines, or reallocation of resources.
Looking to implement or improve your review committee meetings? Read our blog post to understand the fundamentals to achieving success.
Use @mention and color-coded annotations
Purpose built MLR review software solutions provide features that help make the feedback and revision process more efficient.
Our content review and approval solution, Pepper Flow®, includes features such as @mention to allow individuals to ask questions or seek feedback from a specific team member. When a person is @mentioned, an alert is automatically sent. Alerts can be sent in-app or via email and are sent either immediately or in a daily digest depending on the user's preferences.

To further clarify feedback and requests , you can also utilize color-coded annotations to:
highlight the priority of the feedback (red = high priority change),
indicate which department the feedback is coming from (i.e. regulatory uses blue annotations only), and/or
signify mandatory vs non mandatory comments.

Reach out directly to colleagues with a gentle reminder
Busy working schedules can mean time passes quickly and deadlines may be unintentionally overlooked. As a content owner, sometimes it can feel like you're chasing down reviewers in person, via email, or instant message. While Pepper Flow® will send daily notifications to your review team until the task is complete, reaching out to colleagues with a personalized reminder can help reiterate current priorities.

Within Pepper Flow®, you can send a reminder email to an individual reviewer at the touch of a button–and the reminder comes directly from the system, not the individual content owner. This cannot be turned off so it guarantees your colleagues will receive the reminder.

Bonus! Reaching out to colleagues may prompt them to request the task is allocated to a different colleague. To avoid this hold-up, Pepper Flow® allows you to assign a task to a set group. Once the task is accepted by one member, it will be removed from the remainder of the group.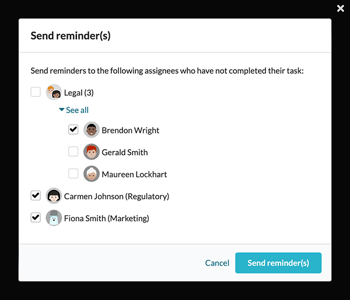 Whilst we know hurdles in the content review and approval process are inevitable, utilizing these top tips and maintaining a clear line of communication with your co-workers throughout the review and approval cycle will ensure approval success.
At Vodori, we make it easy for life science companies to move fast–because healthcare can't wait. We empower companies to move quickly with cloud software that is innovative, life-science focused, and delivered with an exceptional customer experience.
Customer Success Manager at Vodori